repair of air compressors for brake systems


We repair air compressors for brake systems. We use our own highly specialist machines which is why we can make the repair fully independently and on time. We apply proven repair methods and rely on our over 25-year-long experience and extensive technical knowledge of our employees. We always use high quality spare parts and the measuring tools used in the repairs are on a regular basis maintained and validated.

Our customers confirm that after they repair their air compressors at MOTO-PRESS they use them for a few hundred thousand kilometers.

We give a 12-month's warranty for the air compressors for brake systems repaired by us.
Stages of air compressor repair in Moto-Press
Air compressor before repair.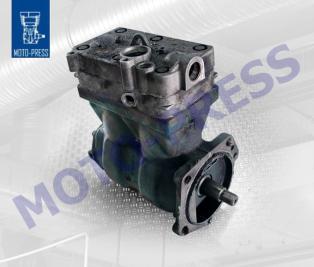 After their professionally performed regeneration air compressors have the same performance parameters as new ones. Experienced specialists with 25 years of practice in rebuilding air compressors repair them with the use of reliable technical equipment. When we take air compressors for repair we confirm that by a "Repair Order" with repair deadline, repair scope, repair price, etc. agreed with the customer.

We give a 12-month's warranty for the air compressors repaired by us.
Air compressor disassembly and inspection.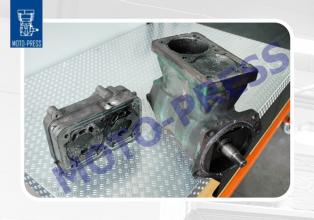 Inspection of components includes primarily the determination of the scope of their repair and possibility of reuse.

At this stage the cause of air compressor failure is determined on the basis of damage of individual parts and that is why it is a very important stage of repair.

Information given to the customers helps in avoiding air compressor malfunction in the car, such as defects in the pneumatic brake system or engine lubrication system.
Washing and cleaning components.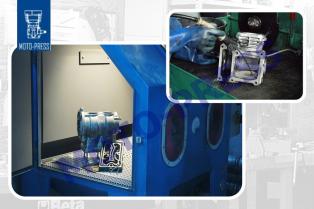 All parts initially selected for repair are washed and carefully cleaned. At this stage they are inspected again. Useless components are replaced with new ones, and those which require repair go to the machining stage.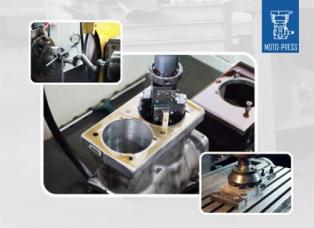 We use our own specialist machines in performing precise machining, such as reaming, turning, milling, grinding and honing.

The measuring tools which we use are validated and maintained on a regular basis.

We hone cylinders in compliance with American technique by SUNNEN.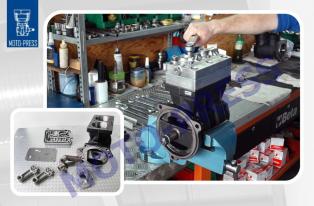 After all components are prepared the fitter assembles the air compressor. Necessary measurements are taken to properly fit the individual components. The fitter follows the recommendations of the producer, regarding the assembly stages and tightening torques for individual connections.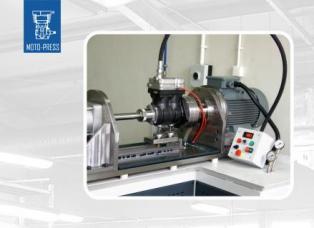 During the operation of the air compressor in the test station simulating work in the car the following are tested:

- cooling system
- tightness
- oil flow rate in the bearings
- noise level
- air flow rate
- head valve tightness

Oil test is performed after running-in of the air compressor
Air compressor after repair. Warranty.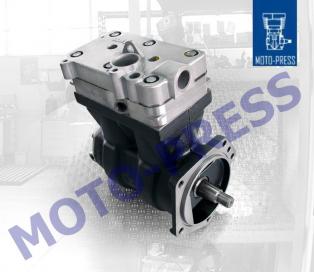 Successful after-repair test is the final stage of repair. Air compressor is marked for identification. Warranty card is issued.

We give a 12-month's warranty for the air compressors repaired by us.
Fitting air compressor in the car.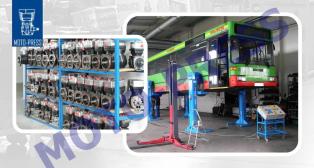 Air compressor after repair can be fitted in the car in our workshop. We remove defects which cause air compressor failure.

The pneumatic system is cleaned and tested for tightness and correct operation.
Reliable and safe shipment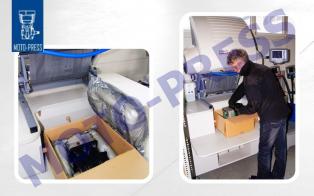 Air compressors are professionally secured during shipment to the customers against damage and insured.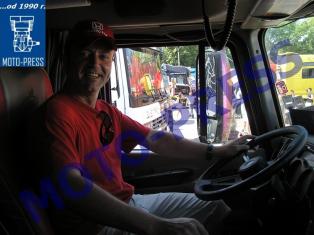 It should be kept in mind that a long and defect-free operation of air compressor is assured if other defects, such as leakage and dirt in the pneumatic system, defects and obstructed ducts, defects in pneumatic valves and other malfunction in the car are also removed. This greatly reduces complaints.

We help our customers in removing defects.
Cylinder honing (SUNNEN-USA technology)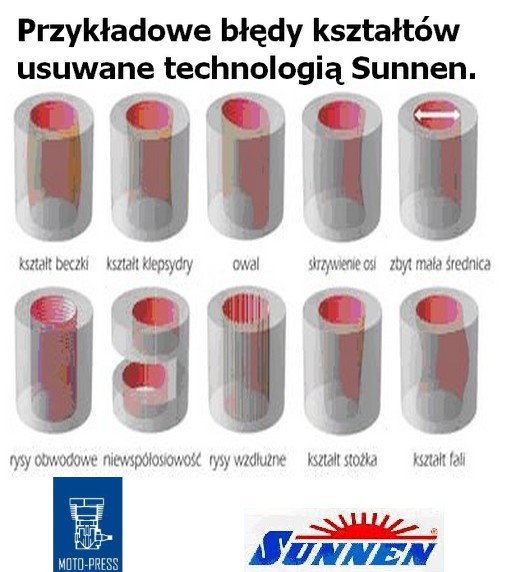 We grind cylinders in compliance with Sunnen technology with the use of CV-616 honing machine fitted with special hone heads operating in a flow of special – carefully filtered honing oil. The ceramic stones applied with adequate pressure remove the right layer of stock (0.07÷0.1mm on diameter) from the cylinder to provide its liner surface with the structure the same as that of the original material, free from micro-cracks and structure irregularities appearing always when reaming cylinders for successive repair oversize. The graphite in the cast iron remains undamaged. After honing the cylinder liner surface has a uniform crosshatch pattern that guarantees the right lubrication of the air compressor during its operation and in the form of oil film that serves at the same time as a reservoir of oil that assures the right lubrication of a cold air compressor when it is turned on.
When the cylinder liner surface roughness is correct it is possible to fit the piston rings better to the cylinder, and brushing done after honing improves the quality of the cylinder surface, rounding sharp edges and brushing off micro-filings and loose particles from the volleys of the crosshatch on its bearing surface.

Honing in compliance with SUNNEN technique guarantees very small diameter tolerance and deviations from the cylinder bore shape.
It also provides the cylinder surfaces with high quality similar to original.